Nepal Honeymoon Package for newly Married Couple
Honeymoon is the celebration of newly married couple which is celebrated in a romantic destination. In this period of time, the couple visits the new place, establishes love and spends private time with each other. Nepal is rich with beautiful romantic places, so for those who are newly married, Nepal can be one of the choices for Honeymoon.If you are newly married and looking for the special once in a lifetime moment for your honeymoon then it is the best option to visit Nepal as the tour in Nepal offers you with the experience to feel perfect.
Nepal Honeymoon Package is one of the most famous package If you have already tie a knot and searching for a perfect and beautiful destination to make your newly married life memorable then Nepal is the perfect place.Over all Nepal is diversified culture, unique history, home rare wildlife species and the abode of Himalayas including Mt Everest but also an ideal honeymoon vacation destination. Nowadays it has become trend;newlyweds make their holiday's trip to Nepal to spend their precious honeymoon phase.
Honeymoon tour to Nepal comprises of allowing you to spend some of your precious time in hill station and exploring the antique history, colorful culture, and miraculous mountain vista, dense forest covered by the wide range of flora and fauna and fast flowing furious rivers.
One positive change that shows your lover that you are starting to prioritize your relationship is making it a weakly goal or long refreshing vacation with him or her. One way to do it is to choose good places for vacation.Exploring and traveling beautiful places is never a bad idea for making your relationship bond strong.
Nepal is one of the most beautiful place for vacation which is also resemble as heaven on the earth because nature has blesses it too much. South Asian country beautiful naturally rather than artificially.And natural beauty is real beauty of artificial beauty.Nepal is a considered as a best place to spend luxurious honeymoon trips.
As we all know best way to strengthen your bond and express your love is to plan a vacation in beautiful and peaceful place together. The beautiful landscape, mesmerizing flora and fauna, silver shining mountain, deepest and highest altitude lake can help you to express your love with him or her. Peaceful environment, diversify hospitality, favorable climate can be plus point to your honeymoon vacation.
Three beautiful cities like Pokhara, Chitwan, Kathmandu has been main attraction of honeymoon vacation.Kathmandu city is known as city of Temples which have precious religious values. Also world heritage site like Kathmandu Durbar Square, Bhaktapur Durbar Square, Patan Durbar Square, Swayambhunath, Pashupatinath, Boudhanath, Changunarayan located in Kathmandu city. Chitwan national park is also one of the center of attraction for honeymoon couple as it have elephant ride which will shows you extincting one horn Rhinoceros,Asian Elephant, Gharial, Crocodile, Bengal Tiger, and many more animals can be seen in the park and also Tharu's culture and their pleasing hospitality. You can continue your vacation in Lumbini the birth place of Buddha (carry buddhism values) for few days.
Boating in Phewa lake with peaceful environment is best idea for all couple there which is located in Pokhara as well as paragliding from highest point Sarangkot, Pokhara. Choosing Pokhara as your honeymoon destination in himalayan valley of Annapurna region let you explore isolation in midst of natural beauty.Viewing panoramic mountain vistas, witnessing site of distinct cultural practice,sightseeing of geographical wonders and enjoying hospitality of luxurious hotels in Pokhara which will undoubtedly become a wonderful moment in the life of newly married couple. You can also have adventurous time doing White water rafting in Trishuli river,which is source of Gosaikunda lake(4230m) above sea label which is one of the best place to do rafting because it runs throughout Prithivi Highway which make easy excess transportation either by local bus or tourist bus.Canyoning exploration in Dhading which posses lot of potential,Bungy jump in deepest gorge of Bhote Koshi, the amazing Tandem swing and thrilling rock climbing can make your honeymoon romantic as well as adventurous.
There are many naturally beautiful places for honeymoon vacation like Everest base camp, Lumbini, Tilicho lake, Annapurna Base camp trek(ABC Trek), Upper Mustang trek, Rara lake, Khaptad national park, Panch Pokhari (historical place in Nepal), Ghorepani trek(famous trek in Nepal), Gosaikunda lake, Janakpur Dham, etc but it depends upon how much time you have for vacation and which package you have select for vacation.
Your group of excellent guide and travel organizers will help you to make your honeymoon package filled with sweet memories in every aspect. This tour is designed in such a way that you can change our itinerary according to your desires as our only wish is to make your trip that lasts for forever. Company will look after your meals, accommodation, transport and other necessary requirements.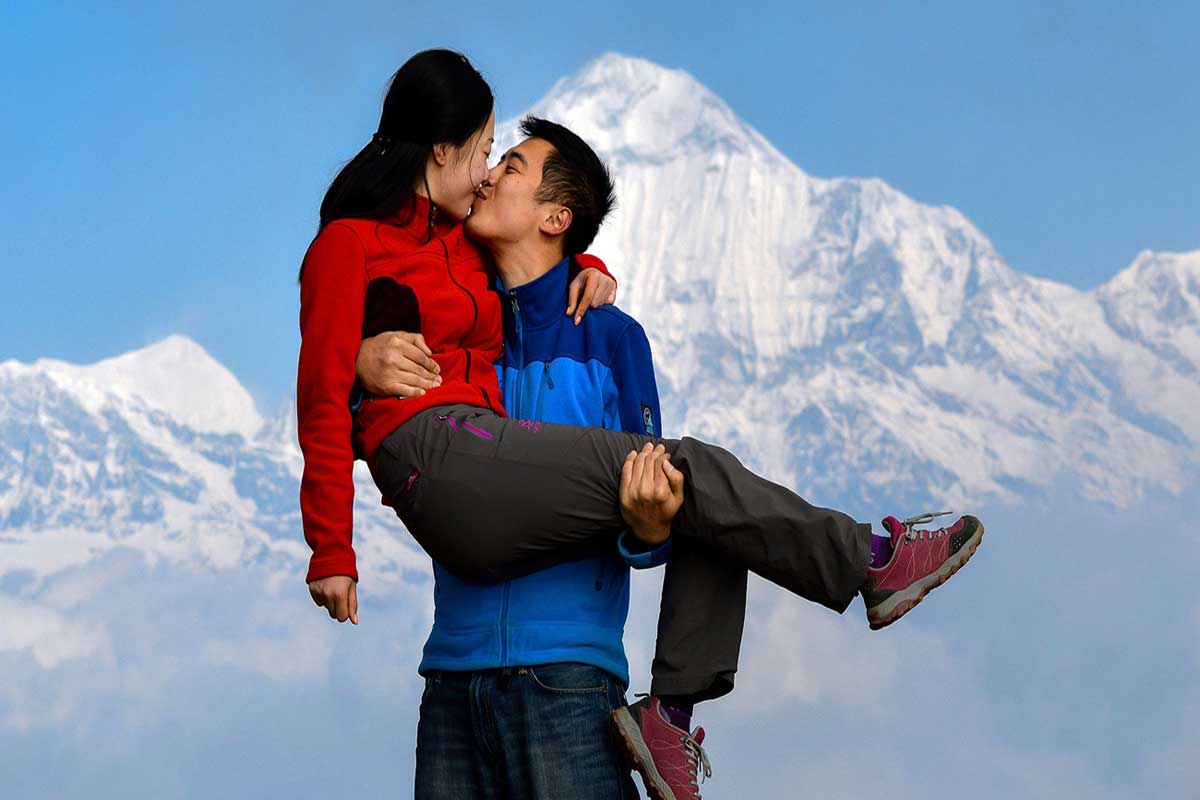 Climate during the tour
September to Nov: Autumn very pleasant and clear weather, the mountain views are the best. (Maximum 30 Degree Minimum 2 Degree)
March to May (warmest months) the temperatures are mildly warm ((Maximum 33 Degree Minimum 10 Degree)
December to Mid February (Winter) the weather is cold and the sky is clear (Maximum 24 Degree Minimum -2 Degree)
June to August: Summer/ Rainy Season (July/August has more rain) (Maximum 34 Degree Minimum 19 Degree)
Beautiful landscape, green forest, flora and fauna, historical site of Nepal will surely make your journey memorable and full of surprise and enhance your relationship with your lover. Hope you have already start packing your back for Nepal tour,haven't you? Nepal is idle idea to find bio-diversify country including unique geographical position along rich culture heritage, exquisite temples, pagodas, glacier capped peak, lush Rhododendron forests. Not only natural beauty ,people with great hospitality will strike in your memory after Nepal tour.
Highlights
➢ Spend your Honeymoon in the enchanting land of Nepal : The Land of Himalayas.
➢ Sightseeing tour of Kathmandu & Pokhara.
➢ Magnificent sunrise view from Nagarkot (Kathmandu) and Sarangkot (Pokhara).
➢ Explore the rich natural wonders of Nepal and Experience the unique Nepalese culture.